The process behind our marketing solutions
The following describes how our engagement will unfold. We usually start with a brief call, then move to paid diagnostics which reveals what further steps should be taken.

If we agree to work together the process behind next steps is outlined in more detail in every solution.

We follow our process because it delivers results. Attempting to change our approach will reduce the impact of our work. If you think this isn't how you want to work with a consultant, please save your time and look elsewhere.
First contact
Someone from your firm will use one of the contact forms on this website to get in touch. We will get back to you within one business day.
Discovery conversation
We will schedule a brief conversation over the phone with someone from your management team. Ideally, it will be a principal or a senior manager of the firm. Someone who has decision-making authority.

During this conversation we will try to understand your current situation and see if there's a fit between what you want and what we can do.
Paid diagnostics
This is a paid engagement. Fee — 2,000 USD. If we decide to go further, we will issue an invoice for this amount. Payable upfront.

Then we will schedule a diagnostics session. It is typically 1-2 hours long. During this conversation we will ask multiple questions to better understand your challenges.

There is no need to prepare for questions. The more unprepared you are — the better. We will measure different aspects of your current situation. One of the aims of this session is to see where your firm is now in relationship to what's possible in your marketplace.

If at this point either of us decide not to move forward, we will refund you the fee for diagnostics. The refund typically occurs within two business weeks.
Paperwork required
If we go forward, after the diagnostics session is over we will analyze the information you have provided us with. Typically within one business week, we will get back to you with our proposed solutions.

Meanwhile, to formalize things we will send you the paperwork: a contract to sign and return, a NDA signed on our part to protect your confidential information. We will then send you a list of materials you'll need to prepare (e.g. list of employees, roles, revenue, number of clients, gross/net profits, etc.). All of the information requested is vital for clear assessment and future recommendations. You will sign and return the contract.
Choosing solutions
Most popular marketing solutions can be found here. There are multiple variables that will determine which of the packages is the right fit for your firm at this moment in time.

Diagnostics will reveal the most likely way of facing your challenges. But sometimes we have to pivot — subtract, add, revisit or alter individual modules when that makes more sense to do so.
Making payments
From this point onward all work will be invoiced up-front and will be non-refundable. You will select one of the proposed solutions and make a full prepayment.

We will move on schedule. Please make sure you have allocated sufficient resources (time, funds, people, etc.).

There are several reasons why we charge up front. One — we can't afford to provide you with candid advice knowing that if you don't like what you hear you might decide to revisit contractual obligations. Another — participants commit to workshops and homework better knowing they've already paid. Another — while you provide us with more information about your firm, as we move from one module to another, there is an invisible process behind the scenes of altering the upcoming workshops.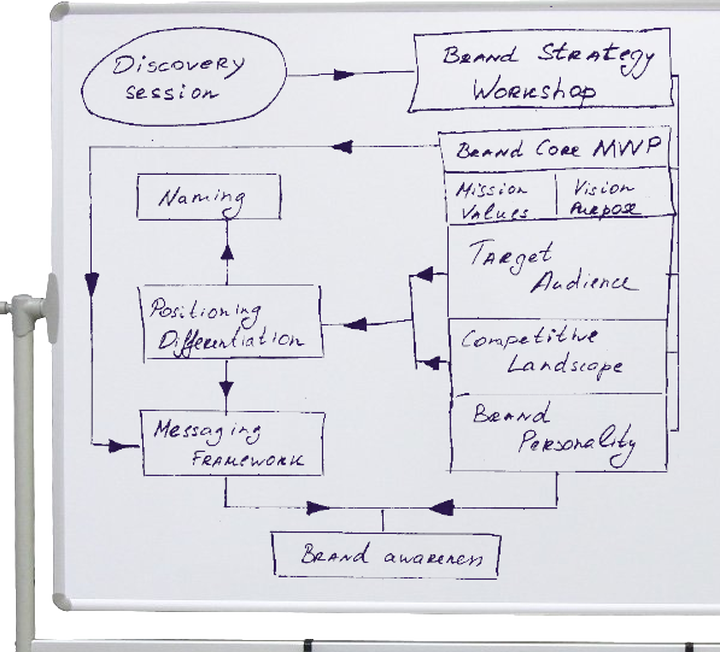 How we run workshops
We will conduct workshops via Zoom (or similar). One workshop per week. All workshops are recorded for future reference. Some workshops consist of two modules, ~ 3 hours each. On average a typical workshop runs for 6 hours with a few breaks in between work.

The amount of time it usually takes to go through all workshops depends on the selected solution.

On some occasions we might have to conduct live workshops for several days in a row. In such cases this requires allocation of additional funds for our engagement including travel expenses. Such situations are discussed and agreed upon separately.
Who should participate
We expect principals (owners, founders, presidents) and key decision makers from marketing, sales, business development and heads of individual service departments to be present at all times.

The exact list of people will be agreed upon prior to the first workshop.
Your homework
Most of the workshops have homework with a due date — typically two days prior to the next workshop. It usually takes an hour to complete homework assignments.

Some of the assignments are instrumental to upcoming modules. If the homework isn't submitted on time by all participants, we'd have to postpone commencement of the next steps.

Please make sure participants are on-board and understand the importance of the upcoming work.
Our recommendations
After the last module of the last workshop we will require ~2 weeks to digest the data and produce concise, to-the-point recommendations.

Formal written reports are typically 60 pages long and are outside of the main scope of our typical engagements. Price for such reports starts at 2,000 USD and up.

We don't recommend including an executive summary into the scope if the intention is to skim through the report, and put it on a dusty shelf.
Creating deliverables
If specific deliverables such as branding or website are part of the selected solution the work will begin after you make a decision based on our recommendations.

Each of the deliverables have a built-in process to them. We do not allow our clients to change it. We will agree in advance on how we will proceed and you will make a full prepayment for deliverables.
Final steps of the process
We will check in with you on your progress twice during the next six months. We will answer your questions and make further recommendations for adjustments where necessary. Such check-in happens via email correspondence or brief phone calls.

Beyond this your key people will be getting insights via email from us if they sign up on this website. We will announce about upcoming seminars, new tools and calculators as well as deliver fresh articles on the subject of marketing for professional services firms.
Fill in this contact form
If you would like to schedule a phone call, please fill in this form.
Please note that we will automatically add your email to our mailing system for our lovely e-doves to start delivering helpful updates and insights.

You will be able to unsubscribe whenever you feel like strangling a particular e-winged messenger.