what's the process?
Our Process
This page describes a typical process of our engagement. Depending on the needs of your company and our conversation during a Discovery session we might have to make a few adjustments to the components. Please inquire for more details.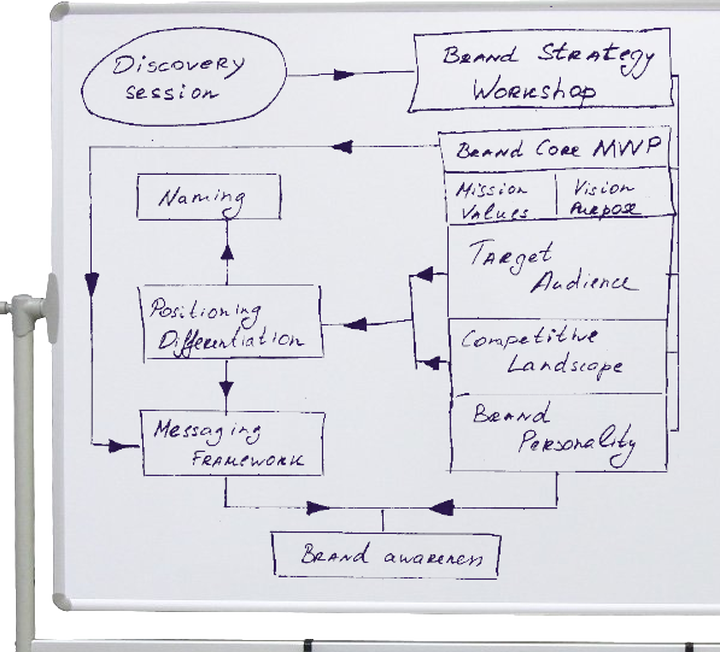 what will you get?
The process is a collection of nested frameworks with two main objectives: to attain the desired future and to align the constituent elements within. A typical process consists of three pillars: brand strategy design, website worth making and compelling marketing communications. The strategy is responsible for figuring out what needs to be done and why; the website is a benchmark deliverable for all other touchpoints to match against; the digital marketing part is a lead generation engine.
P
The Discovery Session has two goals. First, to determine whether both of our companies are a good fit. Second, to figure out what should be included in the Brand Strategy Workshop (aBS).

During this stage we will discuss the scope of work, top-level business objectives and where does your company currently stand on multiple dimensions: positioning, lead generation, profitability, etc.
R
We will engage in the series of Q&As, discussions and exercises to get to the bottom of the most fundamental issues. The constituent parts of the aBS Workshop are described here.
You might expect to get the following questions answered as a result of aBS Workshop.
How should your brand look, sound and feel like?

Where should the brand come into contact with your target audience; what touchpoints should you invest your limited resources in?

Who of all the client groups should you laser-focus on and what's common about them?

What should you say in your marketing communications?

How to position your company in the marketplace against competition in order to stand out from everyone else?

What short-to-long-term business goals will you be able to attain?

Why all of the upcoming effort would matter for you, your employees and your clients?
O
Some of the aBS Workshops can span across several days. It takes time, effort and wits to go through all of the data, opinions, answers and points of view to find patterns, compile and extract the nuggets of useful information. You can expect to have a report with summary and recommendations in two to four weeks.
C
This step stems from our creative strategic thinking. We will come up with options for color palettes, typography, logos & brand marks, create mockups, wireframes and prototypes — all based on the findings and the results of the aBS Workshop.
E
There is usually a gap between theory and practical implementation, between imaginary and actual. To avoid losing something important in the translation we will oversee the design and development of the website for your business.

Your company website is a crucial element in your positioning both internally and externally. Anyone who comes in contact with your brand at any given touchpoint must find a confirmation on your website. The website should be able to reinforce your positioning. Otherwise, it will create nothing but confusion.
S
The website itself will not generate traffic no matter how well-designed it is. In order to convert incoming leads into prospects, prospects into clients your company should have a steady lead generation stream. The digital space is cluttered with noise. We will craft meaningful marketing communications that will drive traffic to your business website.
S
The whole point of going through all of the trouble is to attain a better future for your company, employees and clients simultaneously. We will match our achievements against the business objectives defined during aBS Workshop. Further on, we will make necessary adjustments to designs, website, landing pages and digital marketing campaigns until we achieve results.
Subscribe for insights
▾▾▾
Subscribe to know more about our process and brand strategy workshops. Get insightful articles in your mailbox. We write about branding, strategy and business growth — everything related to transitioning from yet another commodity to a compelling brand.